Jai Jinendra,
Dear Sadharmik Brothers and Sisters,
We, the Board of Trustees and Executive Committee would like to thank all of you for making the Mahavir Janma Kalyanak Celebration - a grand success, held last Sunday on April 22, 2018 at the John Bowne High School. Your enthusiasm and energy was very motivating and your presence was felt by us all. We thank you for your support and look forward to your continued participation in future events.
The program was attended by 1400+ people making it one of the highest attended Mahavir Janma Kalyanak program. We would like to specially recognize all the 250+ participants, directors, and the support crew, who put up a beautiful medley of dance, drama and artful display, with 11 well choreographed items. Paticipants ages ranged from 2 year to 50+ year olds.
This year, JCA started a new tradition - JCA Jain Ratna award to recognize, and express gratitude to the leaders of our community who dedicated themselves to establish and flourishing of JCA. This year, it was a profound honor and privilege to recognize five of the founding members of JCA and their spouses:
Shri Dharamchandji Hirawat
Shri Mahendraji Pandya
Shri Kamachandlji Surana
Shri Anandji Nahar
Shri Nareshbhai Shah
We explicitly want to Thank:
| | |
| --- | --- |
| • | All our young Performers, Directors and Teachers who have been working for past 3 months or more to prepare programs for this event. |
| • | All the parents who worked front to back and making sure the participants are able to make it to their rehearsals and provided much needed back support. |
| • | Our excellent JCA Volunteer team of 100+ including our Kitchen team, Decoration, Programs, Back stage, MC Team, Auditorium, Booths (in the Lobby), Security and the Tech / AV teams which were phenomenal and worked with great coordination to put this program together. |
| • | All the Sponsors and Partners - John Bowne School and staff, Rajbhog, Icon Imaging, Photo & Video - Gurinder Singh Hothi and Audio - DJ Krishna Parikh. |
| • | Our Chief Guest - Mr. K. Devadasan Nair, Consul Community Affairs, Consulate General of India, New York |
With the organization of this scale, mistakes are bound to happen. We seek utmost forgiveness from all of you for any mistakes which may have hurt you unintentionally. We are determined to improve upon and open to all the constructive suggestions which can help us to make our next event even better.
If you want to recap, here is the Facebook Live video link to live through the moments again. For the first time, we have done the live telecast of the whole JCA Mahavir Janma Kalyanak event. By today the video has already reached 35000+ views. Thanks to our awesome IT/AV team to make this happen.
We will be publishing the professional video and photo album of the entire event on our website.

FACEBOOK LIVE VIDEO OF MAHAVIR JANMA KALYANAK CELEBRATIONS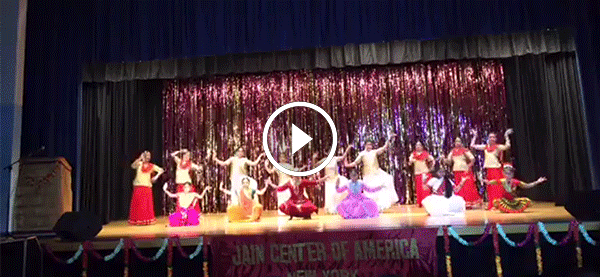 Now the next big event will be the celebration of our Temple Pratishtha Anniversary in June. For any suggestions and joining our Volunteer force, please reach out to any member of Board of Trustees or Executive Committee or email - administrator@nyjaincenter.org
Thank you all for your support.

With Regards,

Board of Trustees
Executive Committee
Jain Center of America, NY