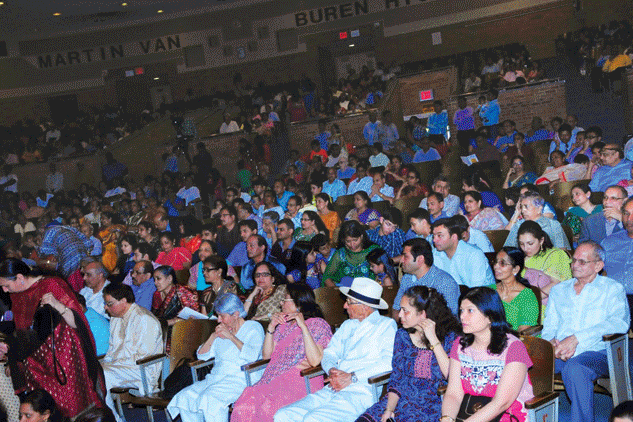 Jai Jinendra!
Dear Sadharmik Brothers and Sisters,
Each year, JCA organizes the Cultural Program to celebrate Mahaveer Bhagwan Janma Kalyanak in which over 1,500 to 2,000 Jains along with their families from around the Tri State area attend to celebrate the religious festivities and cultural programs. We are pleased to have the opportunity to organize this incredible event for all the community to take part in again.
We invite you to participate in our Annual 2015 JCA Mahaveer Jayanti Cultural Program. Please come with family and friends to celebrate this auspicious occasion and our Jain heritage! Please bring the entire family so they can enjoy the beautiful cultural programs performed by our youths.
| | | |
| --- | --- | --- |
| Date: | Sunday, April 26, 2015 | |
| Time: | Cultural Program Starts at 2:00 pm Sharp | |
| Swamivatsalya: | Snacks: 12:00 pm - 2:00 pm |   |
| | Dinner:  5:30 pm - 7:00 pm | |
| Location: | Martin Van Buren High School (Hillside, Queens, NY) | |
Please visit JCA Website for additional information. We cordially invite all JCA members with family and friends to support all of our young participants performing in these cultural programs.

We request all our members to contribute wholeheartedly to ensure the success of this great tradition. Sponsorship opportunities are available. You can sponsor food, trophies, hall facility, videography etc. Please Click on Sponsorship Form to download form or call JCA Temple for additional info.
We are very thankful to everyone who has joined in making Mahaveer Bhagwan Janma Kalyanak program as well as other JCA events so successful with your efforts and generous contributions. We look forward to your support for all JCA's programs throughout the year. With your continued support we are able to celebrate our great Jain traditions as well as pass on our heritage to our future generations.
Please feel free to contact anyone of us or speak with the JCA Manager at 718-478-9141 for any suggestions or to make a contribution towards the success of Mahaveer Bhagwan Janma Kalyanak 2015.
Please visit www.nyjaincenter.org to learn more about JCA's Latest News, Upcoming Events and much more.
Thank you for your time and support and we look forward to having you at this auspicious event.
With Regards,
Jawahar A. Shetti
JCA Chairman
JCA Board of Trustees
JCA Executive Committee